His managerial career has spanned 23 seasons at three clubs in two countries and he has won three league titles and a Champions League trophy on the way.
How successful has Klopp's management been?
Simply put, Klopp has proven to be a successful boss.
He has won 538 of his 999 games in charge so far, losing just 222 of them - and almost half of those victories have come while in charge of Liverpool.
His win percentage record has improved at each club too.
While at Mainz, where he took over in the second division of German football, he won 40.4% of games.
At Dortmund, that progressed to 56.4% of matches and at Liverpool he has improved on that ratio again with a 60.7% win rate.
Klopp first made a name for himself in Germany when he orchestrated Mainz's promotion to the Bundesliga for the first time in the club's history in 2004.
He later went on to win two Bundesliga titles and the domestic cup with Dortmund before guiding Liverpool to European glory in 2019 and the Premier League title a year later.
Last season, he won a domestic cup double with Liverpool for the first time - lifting both the FA and Carabao Cups - as the Reds won 46 of the 63 games they played in 2021-22.
However, their form has dipped this season with Liverpool ninth in the Premier League table having won 15 of their 29 games so far in all competitions - a 51.7% win ratio.
They have not finished outside the league's top four since Klopp's first season in charge of Liverpool in 2015-16.

Who are Klopp's favourite opponents?
Saturday's opponents Chelsea are well known to Klopp. He has faced them 19 times, winning six and drawing nine. He has not drawn against another team on more occasions.
Indeed, the clubs played out two 0-0 draws in the EFL Cup and FA Cup final last season with Liverpool winning both in a penalty shootout. They also drew both Premier League meetings.
His favourite opponents are SC Freiburg, having lost just twice in 18 matches against them. He has also won 10 of his 17 encounters with Tottenham, losing only once.
He has faced Bayern Munich more than any other team and has lost more games to them than anyone else too - 16 from 31.
Klopp and Pep Guardiola have had a long-standing rivalry - indeed, the German has faced the Manchester City boss more than any other manager.
While in charge of Dortmund, Klopp won three of the eight meetings with Guardiola's Bayern Munich. Now at Liverpool, Klopp has won eight of the 19 matches against Guardiola's City.
In total, Klopp has won 11 of the 27 matches against Guardiola - he has not won more against another coach, but has not lost more either - with nine defeats in total.
The good news for Liverpool fans is that Klopp is yet to lose a match when celebrating a milestone. He won his 200th, 300th, 400th, 500th and 600th games as a manager, drawing with Chelsea on his 800th.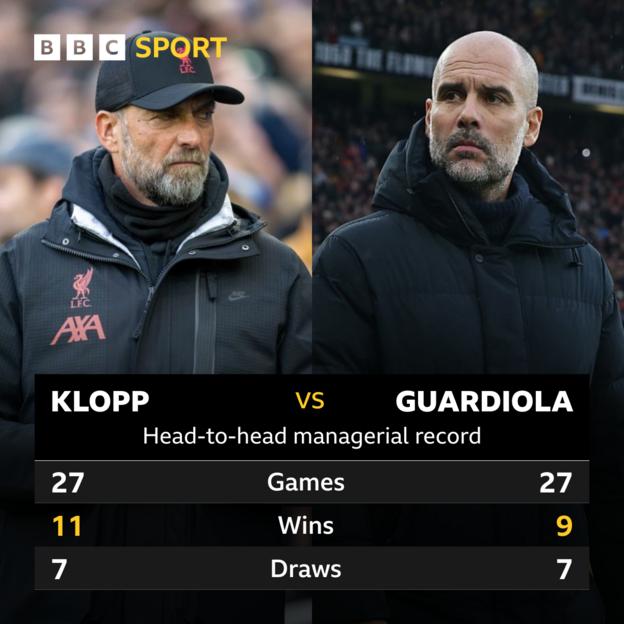 How have his sides caused problems?
Klopp made his mark at Liverpool with intense, high-pressing attacking football.
The five highest-scoring matches he has been involved in have all been during his time on Merseyside, with the 5-5 draw with Arsenal in 2019 topping the charts.
Klopp's biggest win was the Reds' 9-0 thumping of Bournemouth in the Premier League in August.
His teams have not been shy of goals in the Champions League either. His Borussia Dortmund and Liverpool sides scored a combined 205 goals in 100 European games, winning 58 of them.
Liverpool's most prolific attackers under Klopp include Roberto Firmino, Mohamed Salah and Sadio Mane - all of whom made more than 250 appearances for him and are in the top seven on his 'most selected' list.
Silverware has come in standout seasons. During 2019-20, when he led Liverpool to the Premier League title, they lost just eight games in all competitions - the same number of defeats they have already suffered in 2022-23.
Dortmund lost only six, then seven matches in consecutive seasons when they picked up back-to-back Bundesliga titles under Klopp in 2011 and 2012.
Who has enjoyed playing for Klopp?
Liverpool will be without forward Firmino on Saturday through injury but the Brazilian is Klopp's most selected player having featured in 341 of his 999 total games as manager.
Reds midfielder James Milner is the only other player to surpass 300 games under Klopp (301).
Serbian centre-back Neven Subotic played under Klopp at Mainz and Borussia Dortmund and was selected 282 times, while former goalkeeper Roman Weidenfeller was Klopp's most used player at Dortmund, starting all 280 of his games under the German.
Salah has arguably benefited the most having scored a stunning 173 goals under Klopp, a ratio of 133 minutes per goal - a better ratio than Robert Lewandowski, who netted on average every 139 minutes for Klopp at Dortmund.
Liverpool's Harvey Elliott is the youngest player Klopp has selected (16 years, 174 days), while former Mainz defender Peter Neustadter is the oldest (37 years, 176 days).