Meghan was visiting a women and children's centre in Nyanga township alongside her husband, Prince Harry.
It's the pair's first official overseas tour with four-month-old son, Archie.
Speaking at the centre, which is in an area with a high crime rate, the duchess praised its work to counter violence against women and children.
And she added: "And just on one personal note, may I just say that while I'm here with my husband as a member of the Royal Family... I am here with you as a mother, as a wife, as a woman, as a woman of colour and as your sister."
Approximately 2,700 women and 1,000 children were murdered by men in the country last year. At least 100 rapes were also reported daily.
During the visit to the Justice Desk in Nyanga Prince Harry told the crowds that "no man is born to cause harm to women" and this was "a cycle that needs to be broken".
"It's about redefining masculinity," he said. "It's about creating your own footprints for your children to follow in, so that you can make a positive change for the future."
Meghan said the work of the centre, which includes teaching children about their rights and how to deal with trauma, was needed "more than ever".
President Cyril Ramaphosa has called for urgent action
to counter violence and pledged £60m for measures including public education, strengthening the criminal justice system, increasing sentences for perpetrators of sexual offences and providing better care for victims.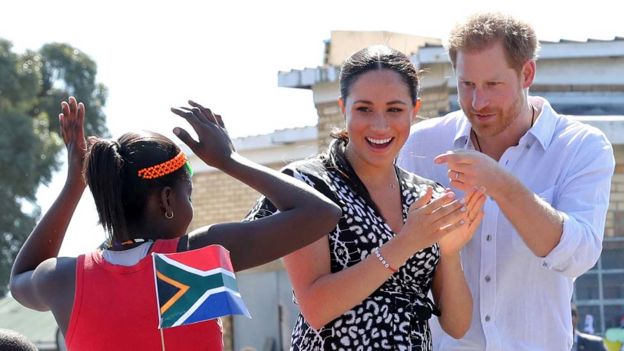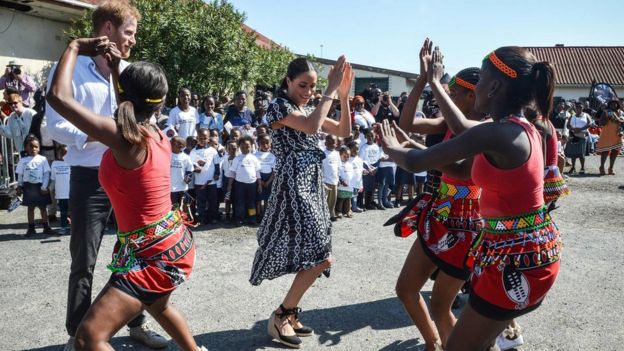 During the visit, Meghan danced with performers after one woman, Lilitha Mazana, took her hand.
The 23-year-old dancer from the Nyanga arts centre said Meghan was "a good dancer" and "very nice".
"Her dancing is fantastic - I've been dancing 10 years," she added.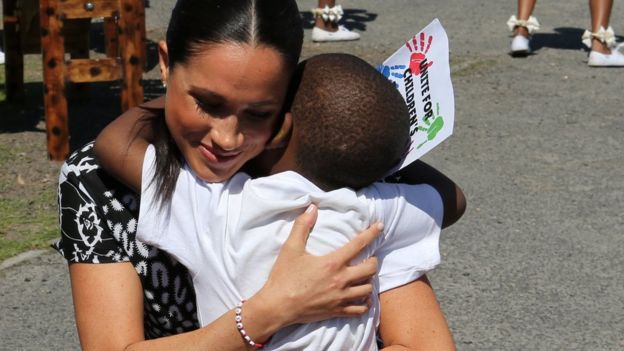 Later the couple visited a museum dedicated to Cape Town's District Six - once a multi-ethnic neighbourhood that was bulldozed by the apartheid authorities in the 1960s to create racial segregation.
Baby Archie did not accompany his parents on either of the opening two trips, but he was pictured wearing a bobble hat as the family arrived at Cape Town airport.
"As a proudly South African gift to baby Archie we want to give him the name 'Ntsika'," the message said.
The charity said the South African name means "bold and brave" - the same meaning as Archie.

'Cheers, applause, song and dance'
By BBC News Africa reporter Pumza Fihlani
The royal couple's arrival was marked with cheers, song and dance, but this visit is a serious one.
Sexual violence and violent crimes are the norm here in Nyanga township, with children and women often the most exposed in what is considered the murder capital of South Africa.
The duke and duchess were taken on a tour of a the NGO Justice Desk centre and talked in private to young women who've survived violence to learn more about what can be done to bring about change.
In impoverished communities such as this one across the country, local projects are often the only help people have to access justice and educational opportunities.
The couple wanted to visit Nyanga to learn more about the work the young people of this community are doing to try and better their lives, against such incredible and difficult odds.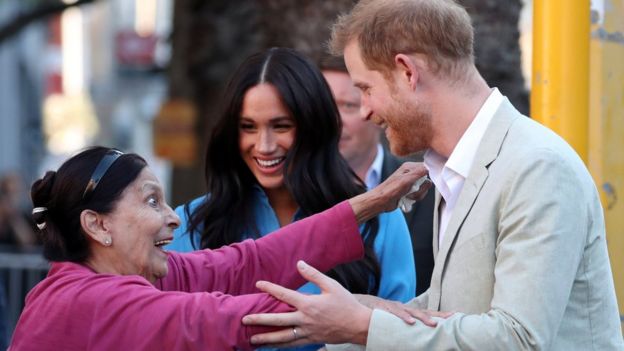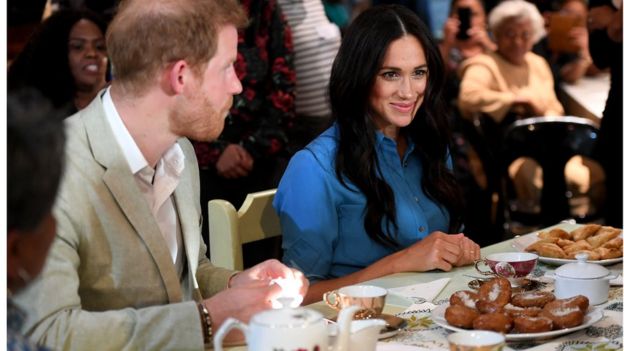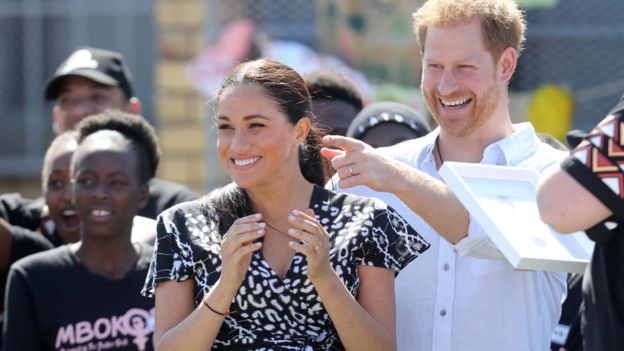 While the duchess and Archie will spend the duration in South Africa, Prince Harry will also tour Angola, Malawi and Botswana before being reunited with his family in Johannesburg.
In Angola, he will mark the legacy of his mother, the Princess of Wales, paying homage to her 1997 campaign to outlaw landmines.
In Malawi he will pay tribute to a British soldier killed by an elephant during anti-poaching operations.
His visit will also focus on efforts to protect endangered animals.
A Buckingham Palace spokeswoman said: "The Duke of Sussex's love for Africa is well known; he first visited the continent at the age of 13, and more than two decades later the people, culture, wildlife and resilient communities continue to inspire and motivate him every day."
Prince Harry's first trip to Africa came in the months after his mother's death in 1997, when the Prince of Wales took him to the continent "to get away from it all", he has said.
It is the duchess's first visit to South Africa.